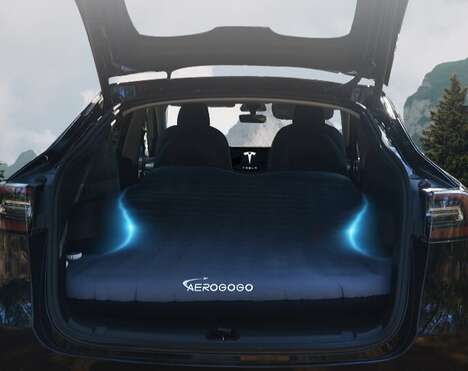 'Aerogogo Tech,' the San Jose, California-based lifestyle company, officially launched a crowdfunding campaign on Indiegogo for its 'Shield Y' inflatable car mattress. This mattress is engineered for use with the Tesla Model Y, allowing it to snugly fill the entire cabin of a Model Y, excluding the drive and passenger seats, with a high-quality air mattress at the press of a button. The shape, height, and density of the Shield Y have been carefully designed to accommodate the shape of the Model Y rear cabin.
The air mattress comes with a built-in electric pump, meaning travelers do not need to bring additional pumps, cables, or other accessories that consume extra storage space. On top of this, the pump built into the Shield Y fills at a rate of 220 liters per minute up to a pressure of 3.5kPa, which fills the mattress to its complete state in just under three minutes, or in 150 seconds, to be precise.
The Shield Y retails for $219 USD as part of a Super Early Bird discount, which is a 38% discount from retail price.
Image Credit: Aerogogo