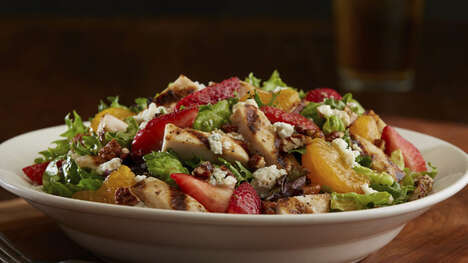 BJ's Restaurant & Brewhouse is getting a jump start on spring with the launch of its new Strawberry Chicken Salad.
A recent addition to the chain's popular $13 Lunch Specials menu, the new Strawberry Chicken Salad is a light, yet flavorful option that's perfect for mid-day. The new dish starts with a bed of baby field greens, topped with grilled chicken, fresh strawberries, mandarin oranges, bleu cheese, candied pecans, and a drizzle of balsamic vinaigrette dressing.
Alongside the new Strawberry Chicken Salad, BJ's is also serving up a new Bacon Chicken Ranch Piadina, which is a wrap made with applewood-smoked bacon and seasoned grilled chicken, and the new Smothered Southern Fried Chicken, which features hand-breaded buttermilk fried chicken.
All three of the new launch specials are available now.
Image Credit: BJ's Restaurant & Brewhouse