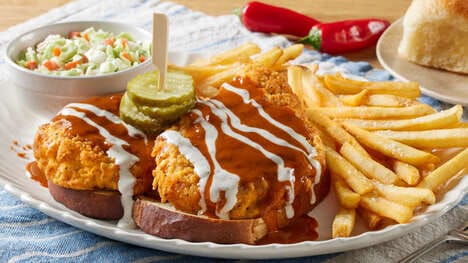 The Bob Evans Dang Hot Chicken menu is a new range of Nashville-inspired fried chicken meals perfect for consumers to try out when looking for flavorful, authentic options to enjoy.
The menu includes the Dang Hot Chicken Sandwich, the Dang Hot Chicken Dinner and the Dang Hot Chicken Family Meal to Go, which are each crafted with premium fried chicken with a spicy kick. The chicken is topped with the Bob Evans Dang Hot Sauce to give it a balanced level of spice, which is cooled down thanks to a drizzling of range dressing on each of the menu item options.
The Bob Evans Dang Hot Chicken menu is priced starting at $11.49 and is available at participating locations for a limited time only.
Image Credit: Bob Evans