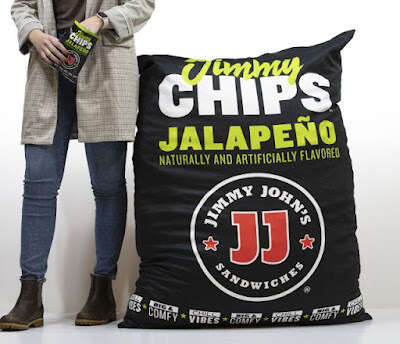 If you're a big fan of the Jimmy Chips served at Jimmy John's, you'll be thrilled to hear that the chain is offering fans the chance to win a free Jimmy Chips Beanbag Chair.
Jimmy John's is currently running a promotion that will reward Freaky Fast Rewards members with a free Jimmy Chips Beanbag Chair if they are able to buy and eat all 25 Jimmy John's core menu sandwiches by March 15, 2023. This challenge includes eating all of the chain's 'Plain Slims' offerings, all of the 'Originals,' the J.J.B.L.T, all of the 'Favorites,' and the J.J. Gargantuan. If you are able to eat all 25 sandwiches, you'll end up with a Jimmy Chips Beanbag Chair, which is a giant beanbag chair shaped like a bag of Jimmy Chips.
The promotion is currently running, but you'll want to act fast because Jimmy John's only has 100 Jimmy Chips Beanbag Chairs available.
Image Credit: Jimmy John's