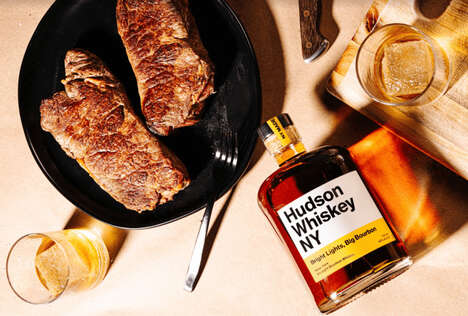 As part of Dry January, Hudson Whiskey has teamed up with acclaimed New York butcher Pat LaFrieda to create a limited-edition whiskey dry-aged steak kit. With 'Dry (Aged) January' Hudson Whiskey-Aged NY Strip Steak Kit on the market for whiskey lovers who want to partake in the trend, Hudson and Pat LaFrieda have created an option for whiskey lovers.
"When it comes to quintessential New York food, there is nothing like a juicy NY strip, other than perhaps a NY strip dry-aged with Hudson Whiskey," says Pat LaFrieda, Owner & CEO of Pat LaFrieda Meat Purveyors. "We are always looking for new innovative ways to evolve our offerings and were excited to work with Hudson Whiskey to bring our first ever Dry January kit to consumers – whether they participate in the challenge or not!"
Starting January 11th, the limited-edition kits will be made available on LaFrieda.com for a price of $158.00. The kits will include two 20oz NY Strip Streaks, two Hudson Whiskey rocks glasses, a cocktail recipe card, and a Caskers code to order a bottle of Hudson Whiskey to enjoy at a time of your choosing.