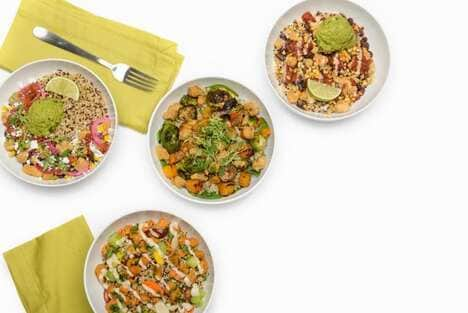 After a successful test back in 2022, Protein Bar & Kitchen has just launched a dedicated vegan menu featuring Abbot's Butcher plant-based Chopped Chick'n product.
For those unfamiliar, Abbot's Butcher's Chopped Chick'n is a plant-based faux chicken product made from pea protein, herbs, sea salt, and pepper. The product has a mild flavor and cooks well, browning nicely in a pan and staying tender when roasted. This product is so versatile that it makes the perfect addition to seven new vegan dishes being served up at Protein Bar & Kitchen. New dishes include the Spicy Chick'n Bowl + Bar-rito, the Chick'n Verde Salad + Wrap, and the new Chick'n & Roasted Vegetables.
Protein Bar & Kitchen's new vegan menu is available now.
Image Credit: Protein Bar & Kitchen