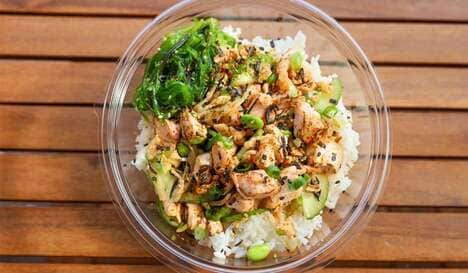 Pokeworks is kicking off 2023 with a tantalizing new offering: the Flame-Cooked Miso Sesame Salmon Bowl.
Available now through March 2023, the new Flame-Cooked Miso Sesame Salmon Bowl is an exclusive, chef-crafted dish made with the highest quality ingredients. The new bowl starts with flame-cooked salmon paired with sweet onion, cucumber, edamame, and hijiki seaweed. All these ingredients are then brought together with the brand's proprietary miso sesame sauce that "brings in a deep savory flavor, with a toasty, funky and salty-sweet richness that gives the delectable combination depth."
In addition to enjoying this flavorful combo in a regular or large bowl, fans can also order it as a burrito. Pokeworks' Flame-Cooked Salmon can even be added to other dishes as a warm, flavorful, and healthy protein option.
Image Credit: Pokeworks