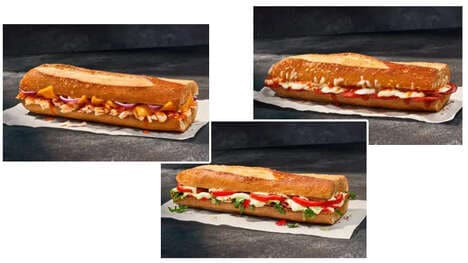 Panera is kicking off the new year by expanding its sandwich lineup with the launch of three new Toasted Baguette Sandwiches.
Panera's new Toasted Baguette Sandwiches are melty, cheese-laden sandwiches served on freshly toasted French baguette bread. The new sandwiches come in three different varieties, including a Green Goddess Caprese Melt option that pairs green goddess dressing with garlic aioli sauce, basil, mozzarella cheese, grated parmesan cheese, tomato, peppadew peppers, and arugula. One of the other new opinions is the Pepperoni Mozzarella Melt, which features Pepperoni, fontina and mozzarella cheeses, and tomato bell pepper sauce. Lastly, the new Smoky Buffalo Chicken Melt pairs smoked chicken with red onions, American cheese, and buffalo sauce.
All three of the new Toasted Baguette Sandwiches are available now for a limited time.
Image Credit: Panera