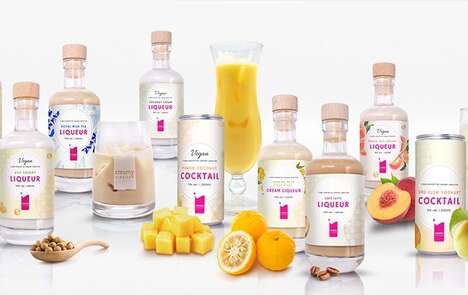 The newest range of cream liqueurs and ready-to-drink products from B2B cream liqueur developer and manufacturer Creamy Creation was inspired by Asian spirits. Made to appeal to consumers in Asia, as well as around the world, this new line plays with popular flavors like ume, peach, yuzu, matcha, soy and coconut. As Jeroen Huiskes, global innovation manager, describes "Our concepts range from standard dairy to fermented dairy-based, plant-based and vegan."
Some of the new releases in this range include Royal Milk Tea Liqueur, Vegan Peach Soy Liqueur and Ume Plum Yoghurt, which is alco available as a sparkling low-ABV ready-to-drink option.
One standout is the Shōchū Yuzu Cheesecake Liqueur, which received a Gold medal in the 2022 Asian Spirits Masters blind tasting and recognition for its notes of lime, cheesecake base and creaminess on the palate.