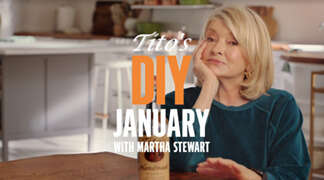 Alcohol brand, Tito's Handmade Vodka, has announced a partnership with lifestyle expert, Martha Stewart, for a campaign called "DIY January." The campaign, which includes a 60-second video starring Stewart, aims to show how Tito's vodka can be used for a variety of household tasks, such as deodorizing musty fabrics and adding flavor to pasta sauce.
"We understand that Tito's drinkers might choose to opt out of drinking this month to partake in dry January, and we support them in doing that," said Taylor Berry, VP of Brand Marketing at Tito's Handmade Vodka. "We'll still be here when February rolls around, but we wanted to offer up some helpful alternate ways to use our vodka until then. And if you decide dry January or 'DIY January' is not for you? That's ok, we support Dry Martini January as well."
The campaign is aimed at those participating in "dry January," a month-long commitment to not drinking alcohol, but it also includes a message of support for those who choose to continue drinking Tito's vodka. The campaign includes a limited-edition collection of DIY January bottle-topper attachments, which can be purchased on the Tito's website for $10, with all net proceeds going to a nonprofit of the customer's choice.
Image Credit: Tito's Handmade Vodka