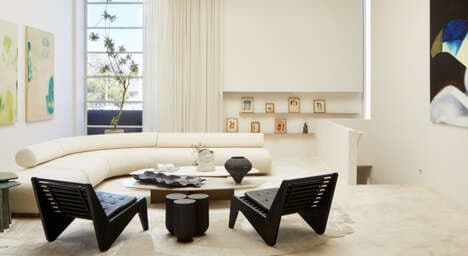 Maison Lune presents a new alternative to traditional galleries—in this case, the creators have focused on reimagining commercial galleries and not public ones. Co-founded by the French artist-designer Sandrine Abessera and the Ukrainian fashion designer Lubov Azria, the gallery is located in a former private house in Venice, California.
The co-founders stated that they wanted "to build an alternative to traditional galleries, which are often perceived as too elitist and intimidating." The interior of the ex-private residency is, therefore, soft and welcoming. The color palette is neutral which makes for a perfect backdrop. The interior was designed by Gabriella Kuti.
The Maison Lune gallery is reminiscent of a "collector's home." The inaugural exhibition for the space is titled 'Transcendence' and it is curated by Gaia Jacquet Matisse.
Image Credit: Ye Rin Mok