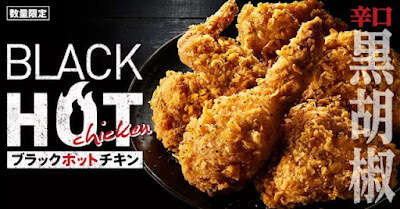 Things are heating over at KFC's Japanese outposts with the launch of the new Black Hot Chicken dish.
Available for a limited time, KFC Japan's new Black Hot Chicken combines the brand's signature fried chicken with the heat of black pepper. As the chain explains, the chicken is marinated in spicy black pepper powder and then fried in a batter that contains granulated black pepper. This double dose of pepper cranks up the heat and gives the chicken a distinctly peppery flavor. The dish is somewhat of a complement to the Red Hot Chicken dish the chain served up last year, which featured the heat of chili peppers and habanero peppers.
The new Black Hot Chicken dish is available now from KFC's Japanese locations.
Image Credit: KFC Japan