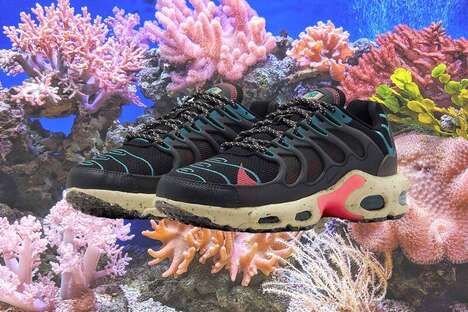 Nike is giving sustainable design a whole new look with the launch of its Air Max Terascape Plus sneakers.
The latest addition to the Terrascape family, the new sneakers feature a deep sea-inspired design that will conjure up images of mysterious coral reefs. The new sneakers feature a deep navy body accented with a bright blue Noise Aqua hue near the heel and tongue. Even more color comes from the addition of Sea Coral pink accents, which can be found on the bottom. The sneakers also feature a speckled stone-colored foundation made from recycled materials.
Though a release date has not yet been confirmed, the new Nike Air Max Terascape Plus are sure to be just as popular as the Air Max Plus, 90 and 97 models that came before it.
Image Credit: Nike, hypebae