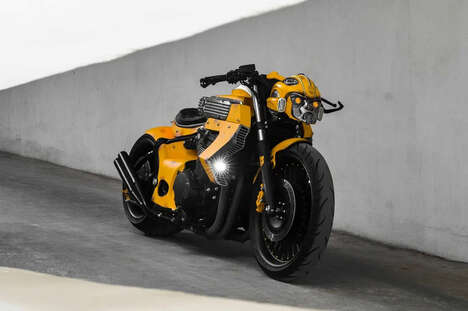 The Bumblebee Bike has been custom-build by RH Customs as a motorcycle that looks good enough to be featured in the next installment of the Transformers science fiction franchise.
The motorcycle is built on a 1,284cc Honda X4 that has been customized to perfection with a custom-designed saddle seat, a series of cam covers salvaged from a 1972 Chevrolet Camaro SS and more. The motorcycle is rounded out with an intricately designed Bumblebee head unit in the front to further drive home the homage to the namesake character from the Transformers franchise.
The Bumblebee Bike maintains a low-slung design that's finished with a black and yellow paint job, and also features Autobotos logos and emblems on the front forks and elsewhere on the bike.
Image Credit: RH Customs