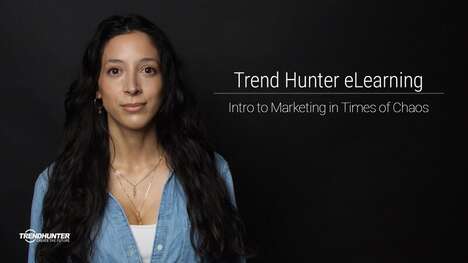 Trend Hunter covers the challenges of Marketing in Times of Chaos in one of the platform's Innovation eLearning YouTube series. This four-part module dives into Co-Branded Creation, Instant Gratification, and Corporate Social Responsibility.
The video begins by outlining the Chaos-Induced Recharting framework, which helps lay out a framework for consumers and businesses to proceed through times of chaos, such as the CoVID-19 pandemic, and end up with a forward-facing charted path. In this module, misinformation during the CoVID-19 pandemic is cited as one key aspect that prolongs the chaos phase of the recharting framework, noting that 10% of adults knowingly share misinformation and 40% share misinformation that they later find out to be false.
The module then dives into Co-Branded Creation and Instant Gratification, noting that brands are faced with reduced budgets and increased difficulty in marketing. These brands turn to UGC, or User-Generated Content, which is shown to be trusted by 92% of consumers, leading to increased perceived authenticity, and increased profits over time. Instant Gratification, on the other hand, is effective during times of chaos. The video cites examples such as TikTok marketing and personable social media campaigns.
For more information on Marketing in Times of Chaos, check out Trend Hunter's Free 2023 Trend Report.
Image Credit: Trend Hunter