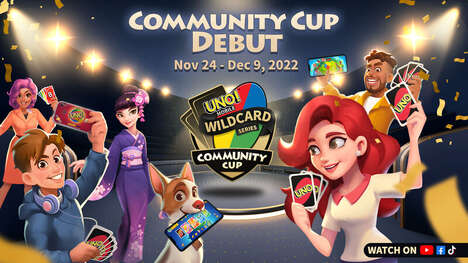 Mattel163 announced the next iteration of its 'UNO! Mobile: Wildcard Series' titled the 'Community Cup Debut.' This is a competitive esports series hosted in the United States and Canada, with all UNO! Mobile players in participating regions eligible to play. To enter the qualifiers for the tournament, players must simply navigate to the 'Community Cup' card in the main menu of the game. In this menu, players can enjoy two rounds per day, with each round containing several three-minute matches with different rulesets.
The qualifying rounds open on November 24th at 11AM EST and run until December 3rd at 23:59 PM EST. The following week is then dedicated to the Community Cup Debut tournament, with the finale taking place on December 9th. The first-place winner will receive $3,000 USD, while second place will be awarded $1,000 and third-place will take home $500.
When the qualifying rounds begin, the popular streamer 'LilyPichu' will release a special in-game pack titled 'Luck of a Champion,' as LilyPichu was the victor of Mattel163's previous UNO! Mobile All-Stars tournament. This pack includes a voice pack, avatar frame, and emojis, all designed by LilyPichu.
Image Credit: Mattel163