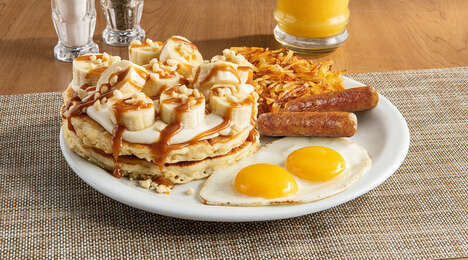 Today Denny's announces the release of three tasty new eats developed with TikTok creators who are passionate about food, flavor, and fresh experiences following the launch of its All Day Diner Deals value menu. With bold flavors and creative twists on sweet and savory pairings, the new menu items are part of the brand's new Social Stars Influenced Menu, available nationwide for a limited time. The delicious new meals represent the fourth drop in Denny's Social Stars Influenced Menu campaign which first launched in February 2022.
"Celebrating food, creativity and the uniqueness of each and every guest is in our DNA," said John Dillon, Denny's President. "Collaborating with these creators has been an exciting journey and has given us the opportunity to not only give guests the quality meals that they want, when they want them, but continue to cement ourselves as America's value destination that consumers count on us for."
The newest Social Stars Influenced Menu drop can be ordered in-restaurant, online or through the new Denny's iOS and Android apps.